What is the training academy?
Becoming a healthcare support worker is not something that can be learned overnight – real- life experience and training is needed if you are to succeed in the role.
That's why we brought in a special 'academy' programme for our new starters. Our Social and Health Care Partnership Training Academy offers newly appointed HCSWs the opportunity to train in an industry-standard, immersive suite, which includes a replica hospital ward, as well as a home setting to mirror social care situations.
The academy, which is hosted at Telford College, takes place at the beginning of new HCSWs' employment, equipping them with a solid foundation to support the delivery of fundamental care, enabling them to complete their mandatory training both face-to-face and through e-learning. At the end of the two-week programme, HCSWs are awarded their Care Certificate before going in to their role within one of the local NHS or social care employers.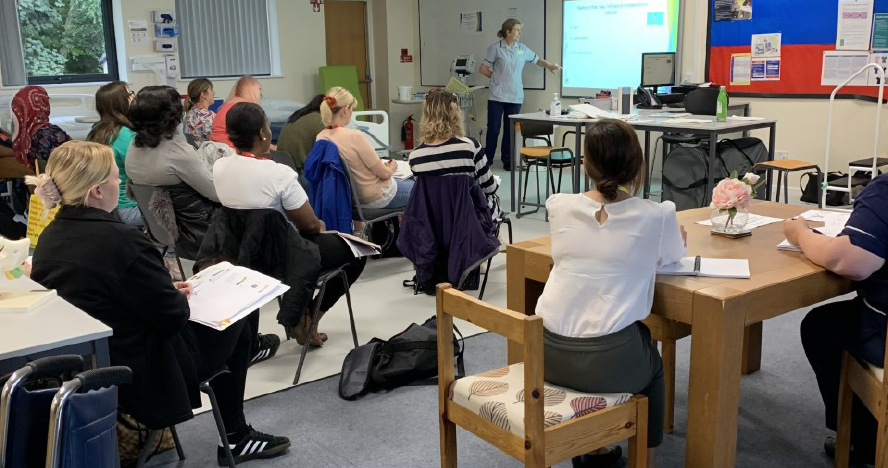 What type of training will I be given?
The academy programme entails a mixture of in-person and online learning, combining practical skills with basic medical knowledge to ensure patients are offered the highest quality experience. The programme is led by a team of tutors who have extensive experience in the field and can provide not only their expertise, but also share their first-hand experiences throughout their careers. During the course of the two-week training, HCSWs will take part in modules, including:
Infection prevention and control theory

Communication and patient experience workshops

Moving and handling

Nutrition and hydration

Falls

Diabetes

End of life care

Mental health
What happens after the academy finishes?
Upon completion of your training programme, you will be able to transfer your skills into a number of healthcare roles across the system, including the community and hospital settings, depending on the role you've secured. At present, healthcare support workers are placed across Shrewsbury and Telford Hospital NHS Trust (SaTH), The Robert Jones and Agnes Hunt Orthopaedic Hospital (RJAH) and Shropshire Community Health NHS Trust (SCHT). You will discuss your placement during your interview and will be allocated a role based on the number of vacancies available, as well as your individual circumstances such as where you live and whether or not you drive.